WE HAVE LIKE SANDS THROUGH THE HOUR GLASS!
Autographed copies available IN OUR STORE!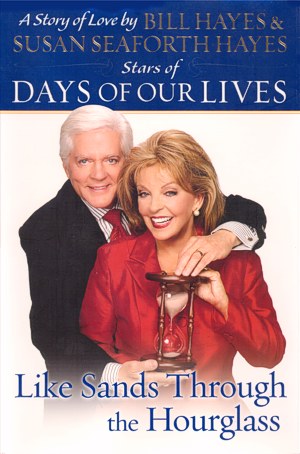 What People Are Saying...
"Bill Hayes was always a great singer, but who knew he would turn out to be such a terrific writer? He and his wife have given us an inside glimpse of what really goes on behind the scenes of a soap opera. It's so good someone should grab this book and turn it into a soap opera." Mel Brooks
Bill and Susan Hayes have written such an interesting book and in such intimate style, it's like they're in the room talking to you - and tell the truth. Read it. You'll have a wonderful time!" Sid Caesar
"It is very apparent that Bill and Susan love each other. What I did not expect is to fall in love with both of them, as you will when you read their book!"
"Deeply personal, startlingly candid, touching, and hilarious. Above and beyond anything ever written about try-life love or the drama behind the scenes of daytime drama. Like Sands Through the Hourglass is a must read." Deidre Hall
"A true love story, told with complete honesty, about a joy for living, love for families and friends, and enthusiasm for their craft. What a wonderful lesson to cherish." Robert Clary
"Superbly witty, wise, and moving. If you love soaps, if you love show business, if you love love, you must read this book!" Susan Lucci
---
It's In The Book!
They were the first "super couple" of daytime drama. Millions of viewers watched as actors Susan Seaforth and Bill Hayes, playing Julie and Doug on Days of Our Lives, fell in love on camera and off - igniting the hottest love story on daytime television in the 1970s and early '80s...
In 1970, veteran performer Bill Hayes, an original member of Sid Caesar's landmark Your Show of Shows - joined the cast of Days of Our Lives as skirt-chasing ex-con Doug Williams. Susan Seaforth was already playing Julie, a passionate young woman eager to change partners.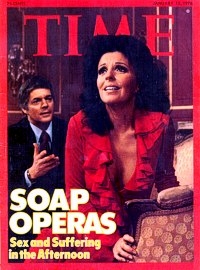 When their on-screen pairing took place, the heat was on - intensified by the actors' budding off-screen romance. Fans were thrilled when Bill and Susan married in 1974. And two years later, when Julie and Doug tied the knot, millions tuned in to watch the big event. Students played hooky from school, workers called in sick, home-viewer reception parties were staged, gifts were sent - and Susan and Bill even graced the cover of TIME. Three decades later, their unusally successful Hollywood marriage continues to be a testament to the power of love - and they remain one of daytime's most beloved couples.
Now this witty, entertaining autobiography tells their fascinating story - from television's Golden Age to hit Broadway shows and sopa opera stardom. Including revealing star-studded backstage anecdotes and cameos by show business greats from Sid Caesar and Leonard Bernstein to Judy Garland and Charles Bronson, LIKE SANDS THROUGH THE HOURGLASS proves that when it comes to true love, the days of Bill and Susan Hayes are never-ending...
Book jacket photograph by Charles William Bush
publisher:

NEW AMERICAN LIBRARY
A division of PENGUIN GROUP (USA) Inc.
357 Hudson Street, New York, NY 10014
Printed in USA
PRESS RELEASE (MS Word)