THIS IS BILL HAYES featuring the John Rodby Trio
This CD is deeply personal to me, each song special to my heart. My hope, of course, is that some of the songs may have touched your life as well. Spontaneous vibration of two heart strings on the same pitch at the same time is a good thing.

Below are the liner notes I wrote for the album. Understanding the emotional connection to a piece of music always enhances my enjoyment, so I share these with you.

You can click on the buttons to listen to MP3 samples of some of the songs and get a taste of what we've put together for you. Enjoy!

And if you decide you'd like to have your very own copy... CLICK HERE!
---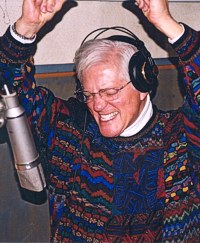 Hooray For Hollywood (Mercer, Whiting) 1:59
Movies surely constitute the greatest art form produced in the 20th century, and Hollywood—that stupendous weaver of dreams, that colossal breaker of hearts - has been my home town for the last 30 years. I love it! All sunshine and star light! "Hooray for Hollwyood!"
A Song For You (Russell) 3:31
When Susan Flannery, playing "Laura" on Days of Our Lives, heard Leon Russell's "A Song for You," she made a point of finding me to say, "Bill this song IS for you." She was so right. It speaks for all of us entertainers who sing of love in a spotlight, but give their true passion to one alone.
Embrasse-Moi Bien (Contet, Durand) 2:41
In the 60s I cruised three times on the fabled liner SS France. Her passengers were citizens of the world and expected to hear some French in their shows. "Embrasse-moi bien" became my signature song afloat. I've loved it since the lovely French singing star Jacqueline Francois first sang it in the 50s.

Everybody Ought to Have a Maid(Sondheim) 3:05
When I saw the hilarious A Funny Thing Happened on the Way to the Forum on Broadway, one song that really stuck with me was "Everybody Ought to Have a Maid." It still cracks me up, it's so silly. I've sung many Stephen Sondheim songs and am happy to include one on this CD.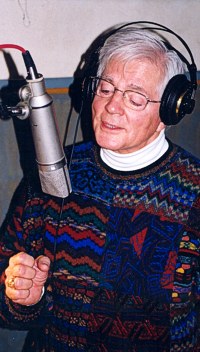 Last Night When We Were Young (Harburg, Arlen) 3:35
This song is one of my all-time favorites. The Yip Harburg lyrics are so poetically poignant and Harold Arlen's simple melody line and chord progressions tear my heart. What geniuses they were! Though the song was written nearly 70 years ago it hasn't aged one bit.
Steam Roller (Taylor) 2:52
Now here's a song about sex. I mean pure pulsating lust. Such imagery: "I'm a cement mixer, a churnin' urn of burnin' funk." It's a steam roller all right! And Baby James Taylor was no baby when he wrote that.
I Wonder What's Become of Sally (Yellen, Ager) and
I Wonder Who's Kissing Her Now (Hough, Adams, Howard, Orlob) 2:54
In the 50s and 60s, when I was doing a single in cabarets, I always searched for a reflective, tender song, and if it was an old one so much the better. "I Wonder What's Become of Sally" and "I Wonder Who's Kissing Her Now"—in their sad/sweet three-quarter time—remind me of a girl that might be gone but never forgotten.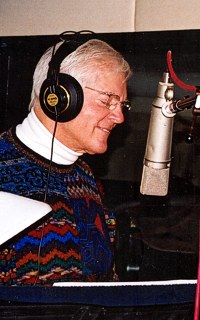 Opera(MacKay, Bizet, Gilbert, Sullivan, Evans) 4:30
"Opera" is a piece of special material written for me by Harper MacKay on the occasion of playing The Rainbow and Stars in New York City with Ann Blyth. It's more playful than biographical, but I love the fact that it introduces my long-running character "Doug" from the daytime soap Days of Our Lives.
Two For The Road (Bricusse, Mancini) 3:02
I want to thank my friend Robert Clary for producing my CD, this exciting record of songs I love. And I also want to thank him for introducing me to "Two for the Road," which I don't remember ever hearing before last month. It's not only set to a beautiful Henry Mancini melody, the Leslie Bricusse words might have been written for my wife Susan and me. We've packed our bags for every continent. I do recommend mileage in a marriage.
Hey! What's Goin' On Around Here? (Hayes) 2:11
It was 1982. In the twist of our soap opera plot my character sees the woman he loves walk into his night club on the arm of Mr. Very Wrong. In nearly 2,000 episodes I had a lot of "Days" like that. I'm very proud of having written the kooky little song, "Hey! What's Goin' On Around Here?", to set that scene.

Blue Moon (Rodgers, Hart) 3:52
Three years ago Gogi Grant and I performed Glad to Be Unhappy at Theatre West in Los Angeles, singing 52 Rodgers and Hart songs. When my grandson David Samuel and his fiancée Jeanine Thomas saw the show they asked me to sing "Blue Moon" at their wedding. I did, and from that day on, whenever I hear (or sing) it I'm transported back to that heart-filled moment.
I Need Some Cooling Off (Rodgers, Hart) 2:14
This is a song that deserves a second listen. Myself, I can't stand still when I sing it. My tap shoes just jump right out of the closet. Well, it's Rodgers and Hart at their 1920s raucous best. My son Tom said, "You've got to do it, Dad!" Some fun.

I Remember You (Mercer, Schertzinger) 2:26
Back in 1962, I did a show with the inimitable Johnny Mercer: Foxy, starring Bert Lahr. We played all summer in Dawson City, up in the Yukon Territory of Canada (talk about an out-of-town tryout!). What a thrill it was to work with the man who had filled my life with so much lyrical beauty. So musical, so wise. "I Remember You" is possibly Mercer's best love song. It does it for me.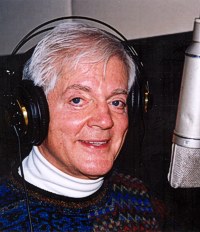 You've Got A Friend (King) 3:31
Carole King's "You've Got a Friend" is one of those 70s songs that became a beloved standard. The loyalty of friends is an unusual theme in pop music, and I find the song more powerful with each passing year. Truly, don't we all want to be there for each other?
When the Red, Red Robin Comes Bob, Bob, Bobbin' Along (Woods) and
I'm Sitting On Top of the World(Lewis, Young, Henderson) 2:36
Of all the hundreds of arrangements I've had done for me, "When the Red, Red Robin Comes Bob, Bob, Bobbin' Along" coupled with "I'm Sitting on Top of the World" is easily the happiest. Once, when singing it on the Mike Douglas Show, I spontaneously leaped up on the piano when I started into "Sitting on Top of the World." The camera man immediately moved in to a very tight close-up. During the applause the executive producer's face popped in between me and the camera, and with a wide grin said, "Your fly's open."

My Romance (Rodgers, Hart) and
You're Nearer (Rodgers, Hart) 3:07
I asked Susan to tell me what, in her mind, was the most romantic song ever written, so I could include it in this rundown of songs. Her immediate reply? "'My Romance.' What more would a woman want to hear than 'I don't need anything but you!'?" I've added a chorus of "You're Nearer" to this arrangement because, rather than take away from "My Romance," I believe it enhances the feeling.

Con Te Partiro (Quaranto, Sartori) and
Nessun Dorma (Busoni, Puccini) 3:54
"Con te partiro" ("Time to Say Goodbye") makes a perfect lead-in to "Nessun Dorma" from Puccini's Turandot. Bill Lockwood played "Nessun Dorma" for Susan and me at our wedding, so maybe you have an inkling of how much it means to me. Puccini's still going strong, and so is our marriage. Me sentimental? You bet!
---
Back in the 70s, Robert Clary and I worked together on several hundred episodes of Days of Our Lives, often sang duets. Also in the 70s, John Rodby was arranging and conducting for Dinah Shore when I appeared on her show several times. Mark Stevens and Harvey Newmark were playing on stage with Gogi Grant and me in Glad to Be Unhappy for ten weeks. So, this whole recording process has been a get-together party. What a kick!

Bill Hayes
January 7, 2004
---
THIS IS BILL HAYES - featuring the John Rodby Trio


Rodby, Stevens, Aldcroft, Newmark, Hayes
arranger, pianist, conductor
JOHN RODBY
drums
MARK STEVENS
bass
HARVEY NEWMARK
trombone
RANDY ALDCROFT
engineer
WAYNE COOK
Wayne Cook Production Studio,
Glendale, CA
producer
ROBERT CLARY


Coming Appearances
Book Signings
Joseph Beth Booksellers, Lexington, KY (7:00pm) - September 24, 2012
The Booksellers at Laurelwood, Memphis, TN (6:00pm) - September 27, 2012
Barnes & Noble at the Summit, Louisville, KY (6:30pm) - October 1, 2012
Left Bank Books (N. 10th Street), St. Louis, MO (7:00pm) - October 4, 2012
The Firefly Grill, Effingham, IL (11:00am) - October 5, 2012
Parnassus Books, Nashville, TN (2:00pm) - October 6, 2012
Fan Sites